Brutus
Brutus is a brindle male that is 28″ at his withers and 145 lbs at 20 months!! He is very stable and has been fully trained. Brutus should top out over 150lbs!!
Ivan De Can Muc
View litter now available from Ivan!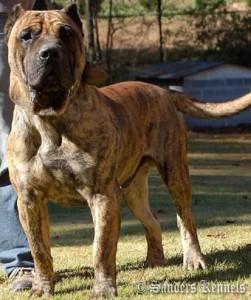 Ivan is a very beautiful and exotic male personally imported from Spain, son to Ch. E. Mago de Dog Real & Kira de Abanicos del Jarama. Ivan's pedigree includes 5 Champions, Ch. Mago de Dog Real, Ch. Tamaran, Ch. E. Ralph, Junior World Ch. Eva de Abanicos del Jarma amd Multi Champion Tor.
DOB: 03-26-04
Ivan has amazing bone structure and size with flawless conformation. He is extremely confident and even tempered with true Spanish expression. Ivan has a superior guard instinct and is a great producer of large-boned and strong willed dogs. Ivan is 25″ at the withers and weights 134 pounds.
Sanders Mongo

Mongo is a three year old male sone of Ivan de Can Much and Sanders Zara. Mongo has been fully trained and is very stable!
Mongo is a very solid 135lbs and 26″ at his withers. His pedigree listed on his FCI papers are full with Spanish Champions!!
Please call for detail.
Sanders Bo

Bo is 2 years old, 25″at his withers and 130lbs. Bo is stable, eager to please and fully trained.
Bo is the son of Sanders Dino and Sanders Cleo. Bo is a great dog and pleasure to be around!
Please call for detail.

Sanders Bruno

Bruno is 26″ at his withers and 130lbs. Bruno has a very stable temperament, is excellent around children and in crowds!
Bruno is very exotic and has great expression
Please call for detail.

Cruz
Cruz is a two year old brindle male. He is 128lbs and 26″ at his withers. Cruz is athletic, stable, intelligent, eager to please and is very well trained. Cruz is the son of Fredo and China