The handling and management of a working dog requires a specific type of understanding and training. Dog trainers who are experienced with the management of working dogs know how to create a strict environment where these dogs are encouraged to learn good behaviors and discouraged from bad behavior, such as excessively barking while riding in emergency or patrol vehicles.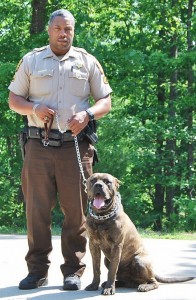 It is best to start strict training with a working dog in the very beginning when you first meet, and not delay training until after bad behaviors begin to develop. This makes management much easier than having to undo learned bad behaviors. Quickly establishing a relationship with the dog is the most effective way to begin a successful training process. If a dog does not have a relationship with the new handler, it sees no reason to respect or obey training commands. A successful training program requires trust and closeness. For previously trained animals, this process will be easier and establishing trust will happen much quicker. If the dog has not been previously trained however, a new handler needs to understand that this process may take some time and should not expect a dog to follow his commands right away.
A new handler that has yet to build a relationship with the dog needs to avoid having to correct or punish him for bad behaviors. The dog is not in a position to trust your leadership, and it is unfair to place the dog in an environment where he or she will fail. The new environment should be set-up for success until some training has been established and there is trusting relationship. Negativity or constant punishment does not work to reinforce good behaviors; only positive reinforcement works. When the dog follows the rules or commands, let him know by rewarding him; this is positive reinforcement.
In time, a properly trained and managed working dog can adapt to living in a new environment and interacting with humans. Though it will not happen the first day, week or sometimes not even the first month, it is vital to the process to have patience.